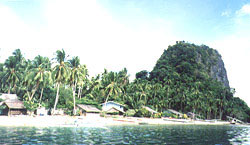 For four days in February 1998, Let and I spent some time "getting away from it all" at a wonderful place called El Nido, a nature preserve in Palawan, the largest island in the southwestern Philippines. The weather was perfect, the water was crystal clear, and there were more islands and lagoons to explore than we had time (or money).

We stayed at a very nice place called Marina Del Nido. There were other places where we could have stayed, but Marina was well worth it. Other places to stay included guesthouses in El Nido town itself, a few other island retreats and the three resorts run by the Soriano corporation.

In fact, there are only three ways to get to El Nido: via Soriano Air 19-seater, twin-engined Fokker twice a day; by charter plane, either a 9-seater, twin-engined Islander or 6-seater, single-engined Cessna -- try not to fly on the latter if you've got a lot of baggage, it's only got a 400kg payload allowance. The third way of getting to El Nido is starting out from Palawan's capital city, Puerto Princesa, then riding a "jeepney" (jeeps modified to carry 10 to 20 passengers) for eight hours until you get to El Nido town. Once there, you can check out available guest houses, or look for one of the island getaways -- of course you'll have to ride a motorized outrigger canoe to get to these islands, but that's part of the adventure.

There are other places to go in Palawan besides El Nido -- some very, very expensive (Amanpulo Resort comes to mind). In general, the best starting point in Puerto Princesa city which you can reach by flying or by ship -- unless, as in the case of El Nido, you can get somewhere directly. The whole of Palawan is an adventure in waiting: from white sand beaches, deep-water fishing, cave and river exploration, to snorkelling, scuba diving, sailing and jungle trekking.

Here's a link to get you started: http://palawan.net/