---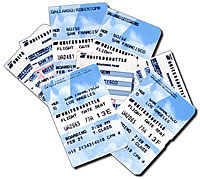 If it's Tuesday it must be... Fisherman's Wharf?


Yes! We finally made it to the US of A -- and we've got the ticket stubs to prove it! Although we were there 16 days, the pretty hectic itinerary (and the wallet-burning costs of airfare -- 70-80% of full fare for children!!!), we didn't bring the kids. Instead, they went to Manila where they had a rollicking good time with their grandparents and cousins.


So just how hectic was our schedule? Well...
Feb 12, 1999: Arrive LA International Airport, 6:30pm


Feb 13, 1999: Shake off the jet lag and try to contact all the people we needed to reach. Confirm flights to Boise, Idaho (and shuttle bus to Sun Valley) and San Francisco. Visit Let's aunt and uncle in Eagle Rock and cousins in Hacienda Heights. Prepare for overnight trip to Las Vegas (whew!)

Feb 14, 1999: Leave early morning on 5 hour drive to Las Vegas. Check in at Treasure Island and meet up with friends. Take in the sights (and try not to gamble our lunch money away).

Feb 15, 1999: After early lunch, return to LA. Drop by Hoover Dam & Lake Mead on the way. Get home real late.

Feb 16, 1999: Disneyland! Say no more. Don't forget to get stuff for the kids.


Feb 17, 1999: Leave for Sun Valley, Idaho to visit Robi's godmother. Fly United to Boise via San Francisco. Catch shuttle bus to Sun Valley Lodge at Boise airport (a two-and-a-half to three hour ride).

Feb 19, 1999: Say farewell to a winter wonderland. Catch the shuttle for Boise airport, hop the plane for San Francisco (flowers in hair are optional).

Feb 21, 1999: Leave San Francisco on early evening flight for LA. Upon arrival prepare for early morning Greyhound bus to San Diego (did someone say 5:45am?).

Feb 22, 1999: Arrive San Diego and head straight to Sea World (do not pass Go... etc). Meet with Let's aunt and uncle (she's got a lot of relatives in the US) and stay with them for the next two nights.

Feb 23, 1999: Whole day at San Diego Zoo.

Feb 24, 1999: Early morning return to LA. Upon arrival home, relax. Dinner with LA-based alumni of Let's high school.

Feb 27, 1999: Penultimate day. Pack some more. Head to Griffith Park again. On the way home, stop at Costco to buy chocolates and other goodies requested by folks in Manila and Hong Kong. Home for late lunch and more packing (say, have we acquired more baggage in the last 24 hours?). Catch evening flight for Manila. Be prepared to gain a day upon crossing International Dateline.

Mar 1, 1999: Arrive Manila early morning. Rest up. Head for Robi's parents' for dinner and to retrieve the kids.

Mar 3, 1999: Leave after lunch to catch late afternoon flight back to Hong Kong.

Hectic enough?
---


---