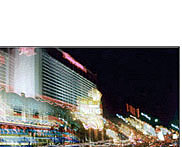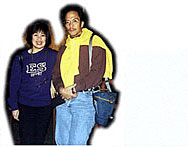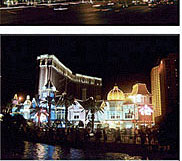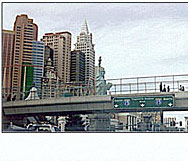 Roll the dice. So what can we say about Las Vegas? Well, it has to be seen/experienced to be believed, and considering we were only there for a short overnight visit, well...


Still, the "Strip" at night is spectacular and the theme park-style attractions of the newer (and colossally huge) hotels is definitely fun. New York, New York (above right) for instance, not only borrows blantantly from the actual New York skyline, but has a working Brooklyn Bridge (built on a smaller scale, of course) and a roller coaster. The pirate ship battle at Treasure Island never fails to draw the crowds -- provided the breeze is gentle enough to ensure safe pyrotechnics and stunts.


New hotels seem to follow the lead of New York, New York: one is a copy of the Doge's Palace in Venice and yet another pulls together famous architectural landmarks from Paris (France, that is) including the Eiffel Tower and the 'Opera.


The MGM Grand is still there, as is the Flamingo, Caesar's Palace has been expanded but the Sands is long gone.


Then there are the shows: Cirque du Soleil, Siegfried & Roy, George Carlin, King Creole & the Coconuts, Tom Jones...